January 27, 2014 | News about
---
Author of "Leaders Eat Last: Why Some Teams Pull Together and Others Don't" Simon Sinek joins the CBS This Morning co-hosts to discuss what makes a good leader and the future of American business.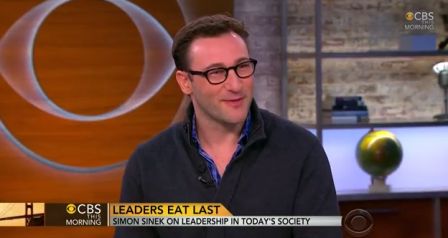 As he did in Start with Why, Sinek illustrates his ideas with fascinating true stories from a wide range of examples, from the military to manufacturing, from government to investment banking. The biology is clear: when it matters most, leaders who are willing to eat last are rewarded with deeply loyal colleagues who will stop at nothing to advance their leader's vision and their organization's interests. It's amazing how well it works.
Click here to watch Simon discussing the future of American business and why the best leaders eat last.